Boat proposal in Amsterdam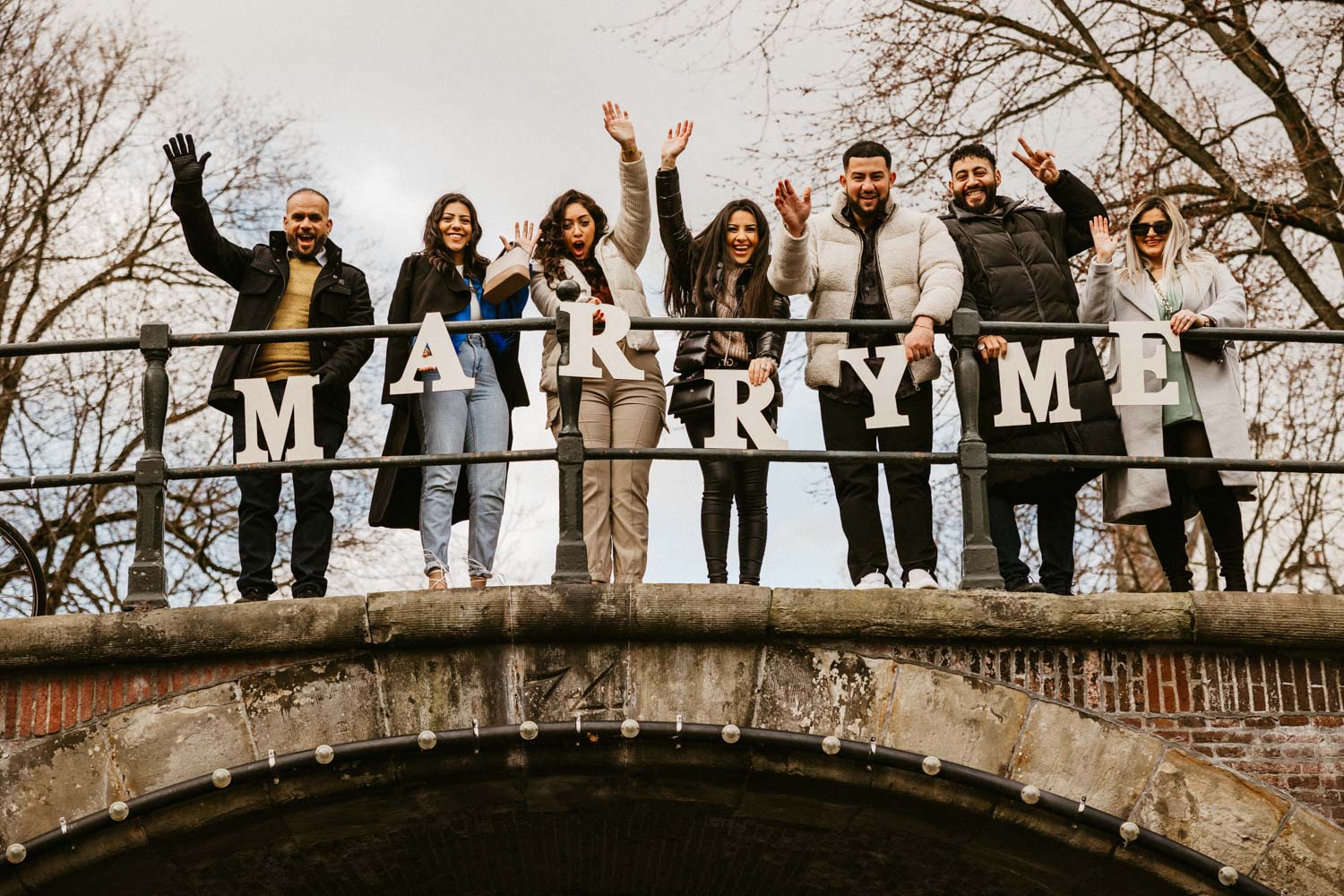 Boat proposal in Amsterdam with a quest
With a best proposal photographer in Amsterdam
Oukeen and Marvina's love story took a romantic turn in the charming city of Amsterdam. Oukeen, with the help of our wedding agency, orchestrated a secret boat proposal in Amsterdam that was nothing short of an adventure quest for Marvina. He led her on a treasure hunt to find him at a designated spot, where a small and cosy Dutch boat was waiting for them. Amsterdam proposal was a complete surprise to her. She had come to the city with her friends and had no idea that Oukeen was also there. Little did she know that Oukeen had been planning this surprise proposal for weeks, with the help of our wedding agency. Oukeen wanted to make the proposal unforgettable and knew that Amsterdam, with its beautiful canals and bridges, would be the perfect location for it. And so, the adventure began.
As they embarked on a canal ride, the beauty of the city's winding waterways was the perfect backdrop for Oukeen's heartfelt proposal. And in one of the spots under the bridge, with the help of their friends carrying "Marry Me" letters, Oukeen got down on one knee and asked Marvina to spend forever with him. The joy and excitement on Marvina's face were evident as she said yes to the love of her life. Amsterdam became a significant part of their love story, and they will always cherish the memories of this romantic proposal.
Time to pop a question
Boat proposal in Amsterdam
Are you looking for a proposal idea that will sweep your partner off their feet? Look no further than our private boat proposal in Amsterdam! Imagine cruising along the enchanting canals of this beautiful city with your partner by your side, taking in the stunning views and creating unforgettable memories. Our Amsterdam proposal package includes a cosy Dutch boat ride that will provide the perfect backdrop for your special moment. We'll help you plan an adventure quest that will lead to a designated spot where the boat will be waiting for you both.
As you and your partner enjoy the ride, you'll have the chance to take in the picturesque sights of Amsterdam, making the moment even more magical. And when the time is right, we'll stop under one of the city's iconic bridges so that you can pop the big question. Our private boat proposal Amsterdam package offers complete privacy, ensuring that your moment is exclusively shared between you and your partner. We're a dedicated wedding agency that's committed to creating the perfect experience for you and your loved one. So, if you're ready to start planning your dream proposal, get in touch with us today to learn more about our boat proposal Amsterdam packages!