Wedding photoshoot with a dog in Amsterdam of Shelley & David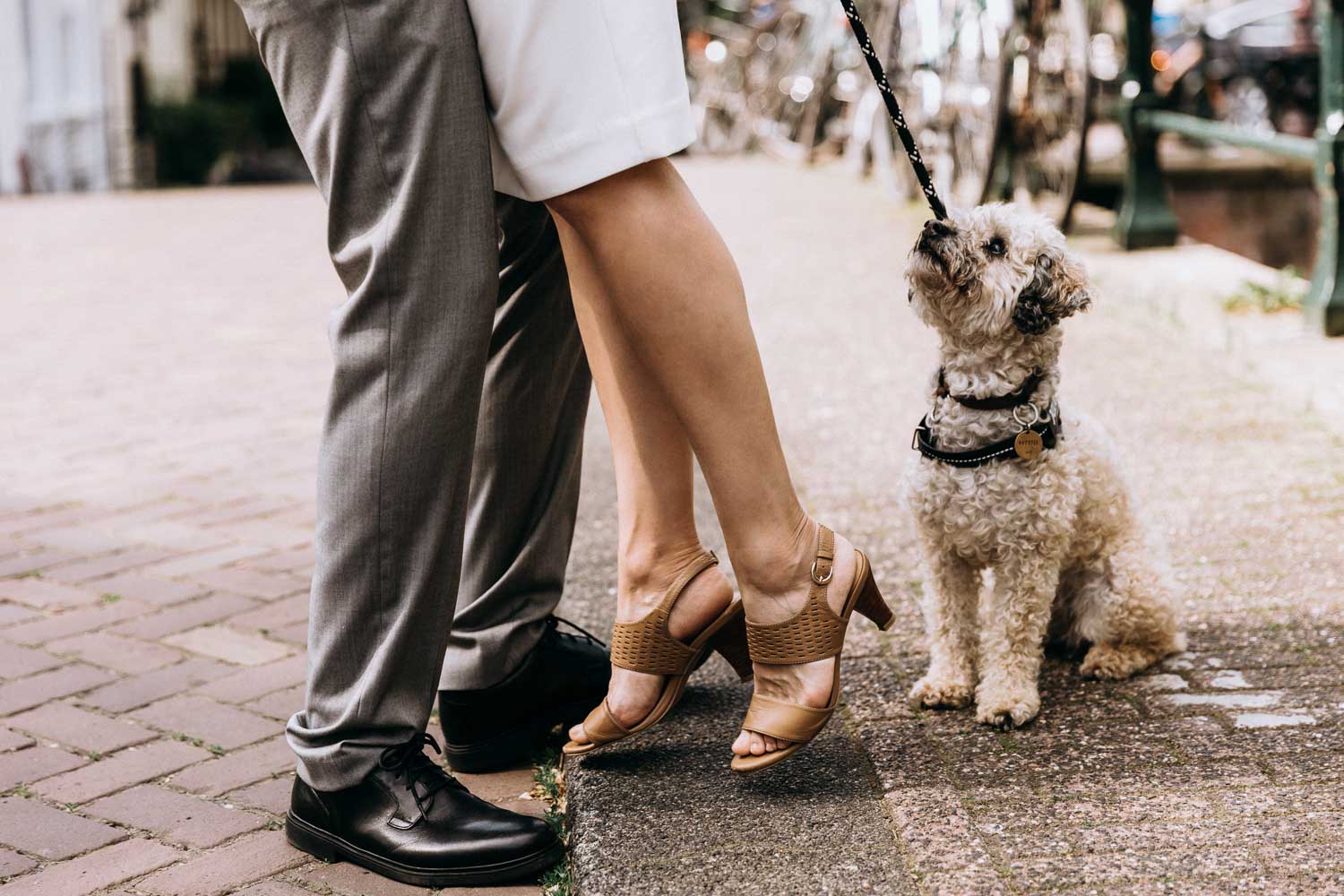 How to make your wedding photoshoot with a dog in Amsterdam unforgettable? Take your favorite pet with you! Pets for many of us are real family members: every day they are with us, giving a sea of ​​ positive emotions. Not surprisingly, many couples decide to take their pet for a wedding photo shoot in Amsterdam.
Shelley, David and adorable Puchella
And my cutest wedding photoshoot with a dog
My lovely couple Shelley & David did just that. For their wedding photo session, they took their pet dog named Puchella. Shelley from the Philippines. David is Spanish. They met in Singapore at a party and fell in love. Then they moved to Amsterdam and decided to get married! For the wedding photo session, they took their most beloved and faithful friend – a fluffy dog ​​Puchella.
Surprisingly kind and affectionate Puchella turned out great in the pictures! The whole wedding photoshoot with the dog was very cute and sincere! It was with great pleasure that we all together made a fascinating walk along the cozy streets of Amsterdam! It is special, magical, addictive and perfect for a wedding photo session with a dog.
As a rule, working with children and animals is considered one of the most difficult. You will need your utmost attention, patience and professionalism. But Puchella proved to be a real model! She happily posed with Shelley & David and was in a great mood throughout the walk.
Of course, it is always better if photographer has its own pet. And therefore can find common language with any other dog. But anyway, a wedding photoshoot with a dog would very special and cute for any visual storyteller.
Why should you take your best friend to a wedding photoshoot in Amsterdam?
Adorable dogs at your wedding photoshoot in Amsterdam
If you are planning your wedding photo session, be sure to take your best friend with you. A wedding photoshoot with a dog turns out to be very unusual, cute and emotional! After all, our pets love us very much and rejoice at any opportunity to spend time with us. If the style of your wedding photo shoot with a dog is special, then you can come up with a special decoration for your dog. It can be anything from a pretty collar to a special suit. There are a lot of ideas and options!